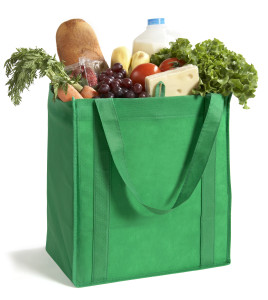 Healthy Grocery Bundles is a systematic change project in which the goal is to get the 50 and over community to improve their eating habits thus improve health and decrease hospital admissions. The program's main goal is to introduce and integrate new food items into participants' homes, thus changing their diets. Cape Atlantic Coalition for Health has developed a partnership with Shop Rite to implement this program.
How the program works:

Starting from March 2015, there will be no monthly pickups. The program has been revised due to programmatic and grant needs. Participants will receive a monthly newsletter through the mail with different themes, recipes, and health education information. There will be three pickups a year: May, September, and January. Three live events will coincide each of the three pickup days. These live events will include nutrition presentations, cooking demonstrations, and other healthy lifestyle activities.
In May, September , and January,  a participant will be able to purchase (at a discounted price) a grocery bag filled with healthy food items.  Other extras such as recipes, health literature, giveaways and/or coupons are included.  There are themes of the month (i.e. heart healthy, healthy snacks, etc.) to make the program more interesting and to educate in the process.
Postcards are sent to remind participants about the pickup and the events.
Please note: 
Pick up times cannot be adjusted
Only one participant per household
Participants must be age 50 or over
Participants must register for the program
Participants will be asked to complete short quarterly surveys on eating habits and general program questions.
Program Locations and Pick-Up Details
Shop Rite of Rio Grande (Cape May County)

Home Site Pick Up Area (in rear, loading area)
Pick up months: May, September, and January,  Pick up day will vary
Time:  10 am to 7 pm.
Please note the Healthy Grocery Bundle Program is no longer active at the Shop Rite of Absecon. 
For more information about the Healthy Grocery Bundle program, please contact us at 609-653-3923.